The Red Ribbon Club is a unit under the Assam AIDS Control Society that is working in this institution for the physical and mental wellness of the students. Actually, it is a movement started by the Government of India in schools and colleges through which, students will spread awareness of HIV/AIDS. The program organized by RRC addresses the knowledge, attitude, and behavior of youths in the interrelated areas of Voluntary Blood Donation, Health Awareness Camps, HIV awareness, etc. as demanded by their age, environment, and lifestyle. The main motto of the RRC is ' Prevention is better than cure.
As a part of creating awareness the RRC, L.T.K.College unit organized a few nos. of programmes in the year 2018 and 2022. Due to covid-pandemic, we cannot arrange any programme in the year 2020-2021. The details of the programmes observed are given below.
Programme 1:
Blood Donation Camp:
The Red Ribbon Club of L.T.K.College in collaboration with Subansiri Gramya Unnayan Sanstha and Lakhimpur Civil Hospital organizes a Blood Donation Camp on the college premises on 29th July 2018.
In this camp, more than 25 nos. of youth donated their blood for the utilization of human beings.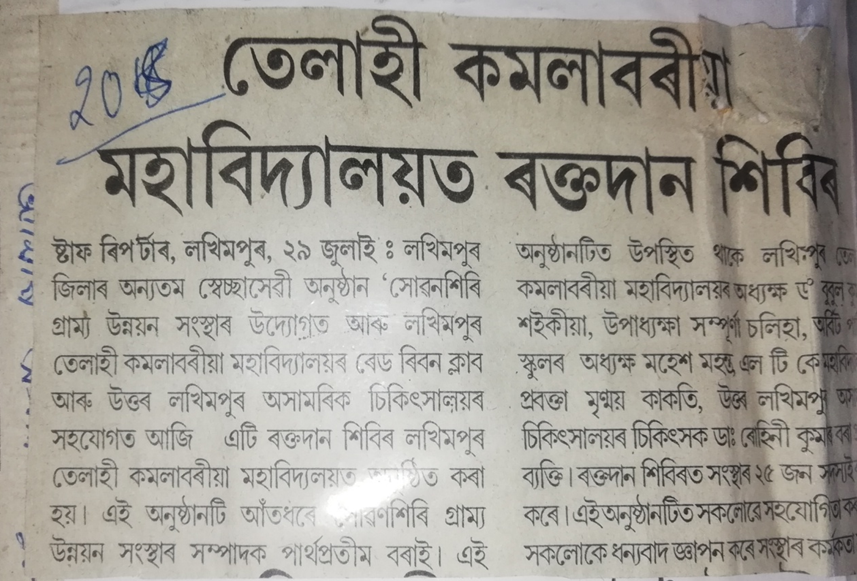 Programmme-2.
National Yoga Day Celebration :
NSS unit of L.T.K.College along with Red Ribbon Club organizes a one-day program on the occasion of 3rd International Yoga Day on 21st June 2018. The morning session starts with a Yoga Camp instructed by an expert person.
From 11 am onward a special talk was delivered by renowned surgeon Dr. Ramananda Saikia about physical and mental health.
Programmme-3.
An awareness programme on Use of Tobacco and It's Relation With Cancer' is organized by NSS Unit and Red Ribbon Club in association with Assam Cancer Care Foundation, North Lakhimpur,Assam on the date 9-6-2022 in the college