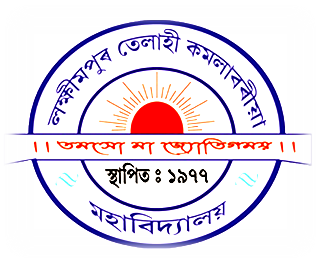 Estd. 2005
In recent time discrimination against women are most common and burning issues of any prevailing society. Every day women especially residing in rural areas are subjected to injustice, suppression, discrimination etc., basically owing to lack of awareness and proper education. So, at such a juncture, as an initiative of the college to mitigate issues related to women, the college authority formed a "Women Cell" in the year 2005 incorporating all the ladies of the teaching staff. This cell is formed with the objectives of working for the advancement of the girl students in particular and women of the Lakhimpur Subdivision in general.
The aims and objectives of the cell are as follows:
To work for the overall development of the girl students of the college in particular.

To work for the empowerment and advancement of the women, the half of the society.
In 2019, the Cell was renamed as 'Women Empowerment and Gender Equity Promotion Cell'
to meet the changing and challenging issues related to women and further included the following objectives to the earlier objectives:
To provide an environment free of gender-based discrimination.

To create awareness about sexual harassment in its various forms.
Since the inception of the Cell, it has been organizing various programmers and talks such as Health and Hygiene of girls as well as women, impact of superstitions on women's economic independence etc. It also works for promotion of gender equity and sensitize students about such issues. As an initiative of sensitizing the students regarding gender issues, the Cell has been celebrating the International Women's Day every year to mark the achievements of women in various fields.
COMMITTEE MEMBERS
| Sl.No. | Name | Designation | Portfolio |
| --- | --- | --- | --- |
| 1 | Mrs. Lichamoni Boruah Gogoi | Asstt. Professor | Joint. Convenor |
| 2 | Mrs. Champa Tamuli | Asstt. Professor | Joint. Convenor |
| 3 | Mrs. Rashmirekha Dutta | Asstt. Professor | Member |
| 4 | Mrs. Marami Gohain | Asstt. Professor | Member |
| 5 | Dr. Deepali Das | Asstt. Professor | Member |
| 6 | Dr. Runali Goswami | Asstt. Professor | Member |
| 7 | Miss Rinku Dutta | Asstt. Professor | Member |
| 8 | Miss Priyanka Dutta | Asstt. Professor | Member |

REPORTS